"175 years into the future, Humankind has reached the stars. As the hyperpowers vie for influence in the shadows, citizens use their permanent connection to Maya, the interplanetary data network, to revel in a bespoke deluge of thrills. Of course, no form of entertainment is as sought after as Aristeia!, the Human Sphere's favourite extreme blood sport."
Aristeia! is the new board game from Corvus Belli, an Infinity spin-off in which two players become the managers of two competing teams for the greatest show in the Human Sphere. Players will face each other in the arena and will have to plan their actions carefully to win.
Corvus Belli proudly presents Aristeia! Core Collector's Limited Edition box.
Aristeia! is the new sports game by Corvus Belli that allows two players to take the role of a competition team manager in the greatest visual show of the Human Sphere.
Are you an Infinity player? Don't miss the chance and get yours! This Edition has been specially designed for you!
Get the metal version of Maximus, heXx3r, 8-Ball, Gata, Major Lunah, Parvati, Wild Bill and Miyamoto Mushashi.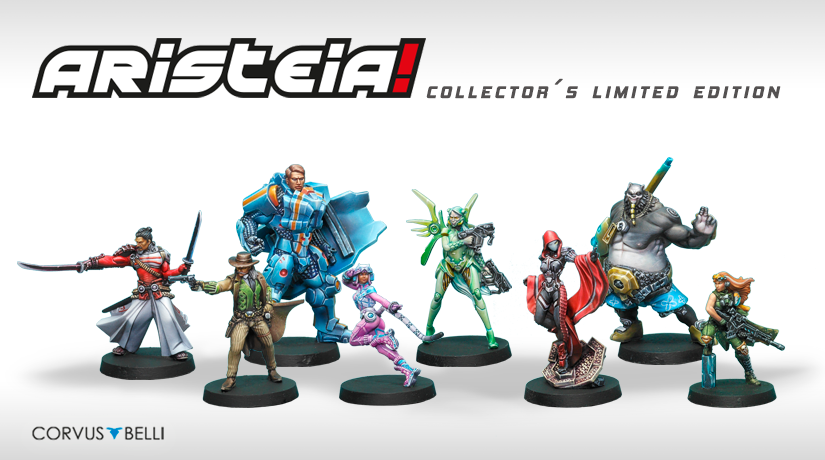 This box contains:
8 character figures with their exclusive cards
8 28mm Metal Miniatures
8 Initiative cards
52 Tactics cards
10 Premium Foil Tactics Cards
3 Booklets (Access Guide to Human Sphere, How-to-Play instructions and Reference Guide)
1 Reversible Folding Board (the HexaDome)
14 Dice
Tokens
8 Exclusive Art Postcards
Numbered Certificate of Authenticity